Hi Everyone,
As promised, today is the day for the very first guest post on this blog. I hope you enjoy it, and if you have any questions, I am sure Adam will do his best to answer them.
ADAMS POST
Hello, all! The lovely Lost Wanderer asked if I'd like to do a guest post on this 'ere blog. Pfft, silly question!
First, a little about me: My name is Adam Slade, and I'm an author of predominantly fantasy fiction, often with a humorous bent. I have been known to stray into other genres, but fantasy is where my heart is. My first published book,
"A Reaper's Tale: The Undecided"
will be out at the end of May. I'll come back to this a little later. I also have a writing blog entitled
"Editing Hat"
and a new serial blog entitled
"Gumshoe Casefiles"
that I created for a bit of humour-writing practise. Go take a look, you might like it. ;-) So, the main topic of this post is my experiences with professional editing; I.E. working with an editor. While I'm new to it myself (this is my first pubbed book), I'm happy to talk about my experiences so far. First up, I'll go through the steps that came after I received my acceptance email and signed my contracts (read 'em carefully, folks!). Shortly after I'd stopped running in tight circles squealing like an overexcited toddler (this process took a couple of days), I was sent a "Welcome Pack" which contained details of how
Lyrical
works (house rules, contact details for various departments etc), and requests for some contact details. A little while after this, I was assigned to an editor. The way Lyrical works is that a bunch of editors read each approved submission and then decide who gets to work on it. I like to think that they all loved my book and fought like rabid animals to get the opportunity to work with it. What? I can dream! So, the fabulous
Cynthis Brayden-Thomas
emailed me announcing that she would be my editor, and attached a couple more files for me to peruse. The first was a form asking for details about cover art, blurb, taglines and the like, and the second was a check-list. This check-list detailed all the common errors encountered in manuscripts (excessive adverbs, head hops, ) and some info about house style rules. Cyn gave me a deadline for getting them complete, and I got crackin'.
Note - Not all publishers do the "pre edit" thing. Lyrical do, and their reasons make perfect sense; why make an editor do what
you
should have done before submitting?
Thankfully, I'd done most of the things on the check-list before submitting (*cough*), so I had the manuscript (MS from here on in) back to Cyn in plenty of time so she could begin on the scariest part of the whole "book making" process... Revisions! Dun dun duuuuuuuuuuuun!!! Well they worried me, anyway. Waiting for the first set of revisions was akin to... um... having a plaster you had to rip off a particularly hairy place... but you couldn't rip it off until you got an email from your copy editor. Ok, that didn't work. Lemme give it another go. It's like waiting for a train... a train containing ninjas... Damnit. Alright, I give up. Waiting for the revisions is almost as bad as receiving the email containing them. (Ooh, I'm finally up to the part LW wanted me to talk about, and it's only taken me a few hundred words and a handful of bad jokes.)
'Nother note - There is a fairly common misconception that an editor is there to "fix" everything, from spelling, to grammar, to gaping plot holes. This is
not
the case. First of all, if you submit a MS full of spelling and grammar errors, it won't be accepted in the first place; publishers and editors are busy bunnies, and don't have time to fix what you should have fixed before you submitted. Secondly, if the editor
did
sort all the mistakes themselves, the changes wouldn't be in your voice and you wouldn't learn to pay attention to similar issues in the future.
So, revisions. In my case, they were very easy to follow and understand. They went a little something like this:
Minor changes like word substitutions were made using "Track Changes,"* so it was a case of reviewing each and clicking accept or reject. In my case there were quite a few, as I had to go from UK spellings to US
Larger changes were in "Notes"* at the side of the MS. Most of the larger changes were along the lines of "I don't think this works, for this reason. How about you try this?"
In the case of the changes I didn't agree with, I added a note under Cyn's note and moved on. I believe that, by the end of the revision there were no more than 2 or 3 of those.
* (Track Changes and Notes/Comments are available in both Word and it's free alternative OpenOffice. I use the latter.)
Despite the lovely Cynthia's reassurances, the first time I opened the MS, it looked like an immense amount of work to get done before the deadline. Once I'd been through it once, accepting or rejecting the word substitutions and making the minor changes, it turned out there wasn't so much to do. In my case the minor stuff took up 75-80% of the time, and was more tedious than difficult. The larger notes (regarding passages that could be reworded, or consistency issues) took a little longer, but even those weren't particularly difficult. After all, it was MY book I was working on; I knew the story and how best to change it without losing anything (in other words how to retain my "voice"). Once the revisions were done with, I emailed the new version back to my editor and began the wait for the second set of revisions. (Insert more failed metaphors here.) In the mean time, I received both my cover art and blurbs, so I'll use this as an excuse to pimp mah book! [Begin pimpage]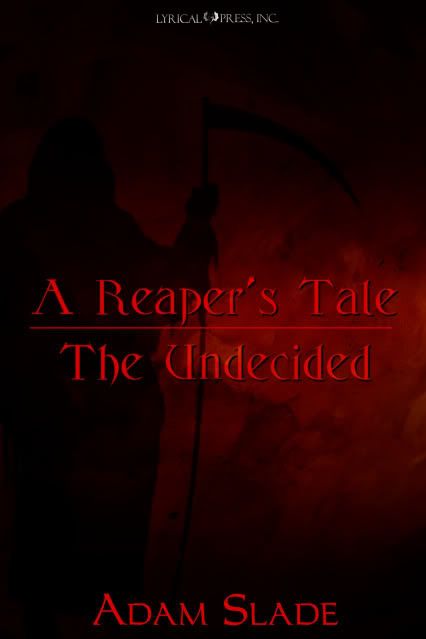 BLURB: Mal has managed to stay out of the afterlife for 31 years, despite having been dead for the last three. He's a Grim Reaper, and while he may not be the most enthusiastic, he enjoys his "life" too much to give it up to death. But he's got a problem. A troubled young woman's soul becomes bonded to his, and a vicious demon is hired to retrieve it. If Mal can't get her soul free in a hurry, he's doomed to share her destination, whether it be heaven or hell. TAGLINE: Even Grim Reapers have bad days on the job. The release date is looking to be May 30th, providing there are no hiccups in the run-up. Words cannot describe how excited I am! *Happy dance* (I have a fan page on
Facebook
that I try to keep updated with developments.) [End pimpage] *Ahem.* Shortly after receiving the finalised blurbs, I got my second set of revisions. These were basically the same as the first set, but there were considerably less changes to be made. Most were house rules issues that had been missed the first time around, but there were one or two minor changes (re-ordering of sentences etc) required too. As I write this post, this is the point I'm up to. Once the edits are complete, I shall send the MS off to Cyn, who will read them through (hopefully she'll be over her flu, wish her well people!). Ideally, there will be no further edits required. If that is the case, the MS will be sent to the line editors, who will go through the work word by word, making sure everything is as good as it can be. Think of them as a "second opinion." Once that process is complete, they send the MS back to me and my editor and I read through and sign off on the changes. Next comes what's known as the galley edits. These are the very last part of the editing process. It's where I submit my dedications (family, friends, pets) and acknowledgements ("I'd like to thank the Academy..."). After that, it's merely a matter of waiting (im)patiently for the book to come out! So, that's it for me, I think. I hope I covered everything, but if anyone has questions, I'll do my best to answer them. :) Thanks to my editor,
Cyn
, for being awesome, and thanks again to Lost Wanderer for giving me the opportunity to chat (and pimp my book). She will be appearing on
my writing blog
on the 28th of this month, so be sure to come check her out! TTFN, Adam